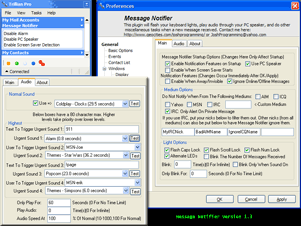 Message Notifier Plugin For Trillian
Welcome to
Josh Rosenbaum's
Message Notifier site. Message Notifier does not get much development love lately, but it still works nicely.
Old Message Notifier Guestbook
---
News
11/20/2013
Alright, another 6.5 years and a new release. Message Notifier 1.39 fixes up old website references, fixes update checking (disabled by default now with so few updates), adds an option to close the screensaver when a message is received, and finally adds an option to power/wake up the display if a message is received.
03/18/2007
Well, 3 years later and I finally release a new version. This version (1.38) fixes 4 bugs. (3 crash bugs and one annoying one where sending group messages would cause an alert.) See below for changes. Sorry I haven't been able to work on this much. There are a ton of features that could be added, but I just haven't had time. After 1.38 has been in use for a while and is stable, I'll submit it to the Trillian site.
Archived News
---
Message Notifier 1.39 for Trillian
Download:
Latest (1.39):
MessageNotifier1_39ByJoshRosenbaum.zip
for
Trillian
Older Versions:
Last (1.38):
MessageNotifier1_38ByJoshRosenbaum.zip
for
Trillian
Also available on the
Trillian Plugins
page.
---
Message Notifier Readme
---
Short(??) Description
"This Trillian plugin notifies you by keyboard lights and/or pc speaker sound when someone sends you a message. It will flash the num/caps/scroll lock keys (selectable) either all at once, or one at a time. It can also flash the number of messages that you have received since you've been gone. There are many sounds to choose from, or you can disable them. Priority sounds can be setup to activate on certain text or by certain users sending messages. Limits can be set on both lights and sounds, so you can have the alert activated for only a few seconds, or forever. (They are also automatically disabled upon user input.) You can set notification to ignore certain mediums, as well as to ignore IRC group messages. Message Notifier can also ignore specific users as well. Can be activated by screen saver, on away, automatically, or manually. Plus many more options."
Shorter Description
Notifies by keyboard lights and/or pc speaker when message received. Lights flash together or one at a time. Can flash number of messages received. Priority sounds based on received text or certain user. Can place limits on both lights and sound. Can Ignore any medium, IRC group messages, or aliases. Activated by screen saver, on away, automatically, or manually. Plus more.
Short as I could get it
Keyboard lights/pc speaker when message received. Lights flash together/one at a time. Can flash # of messages received. Priority sounds based on received text / certain user. Place limits on lights &or sound. Ignore any medium/IRC group messages/aliases.
Current Features:
Flash Num/Caps/Scroll Locks keys (selectable) when message received (until some user
input found)
Play audio (i.e. songs, sounds) when message received. (Until user input found)
Options to select various sounds/songs.
Decrease/increase speed of audio.
Option to start detection when screen saver starts or when you go away/invisible.
Trillian list options to enable detection, the PC Speaker, and screen saver detection.
Priority text options. When certain text (case doesn't matter) is typed in a message,
priority audio will be played. If a message is received while the normal audio alarm is
active, the priority audio will take over. In this same fashion, priority one audio will
take precedence over priority two messages.
Option to enable detection as soon as plugin is started.
Play audio for a certain number of times
Play audio for a certain amount of seconds
1.3 - Tabbed preferences. (A bit different layout, but basically the same.)
1.3 - Ignore Online/Offline Messages. This option will ignore the information messages that
can occur in the windows. (Such as online/offline ones.)
1.3 - Option to only alert on private IRC messages. (default)
1.3 - Notification based on medium. Now you can ignore messages from certain mediums. (I also
included a custom field. I was thinking this might be useful for Trillian 2.0, but I
honestly don't really know as I haven't tried Trillian 2.0)
1.3 - Filter out certain nicks from any medium. Put your IRC nicks here, as the IRC server
sends your outgoing messages back, and they are registered as incoming messages in
Trillian.
1.3 - Blink the number of messages received. (I think this is best use with "Alternate LEDs"
on.) Also, this ignores the number of blinks times, and blink duration options.
1.3 - Blink # of seconds.
1.3 - Blink # of times.
1.3 - Blink only when sound on. This will shut off notification if there is no sound, or a
sound limit has been reached. If you set the sound to shut off in 3 seconds, and this
option is selected, then notification (including lights) will shut down.
1.3 - Make priority sounds when certain users send messages.
1.39 - Wake display from sleep when message received
1.39 - Close screensaver when message received
Screenshot: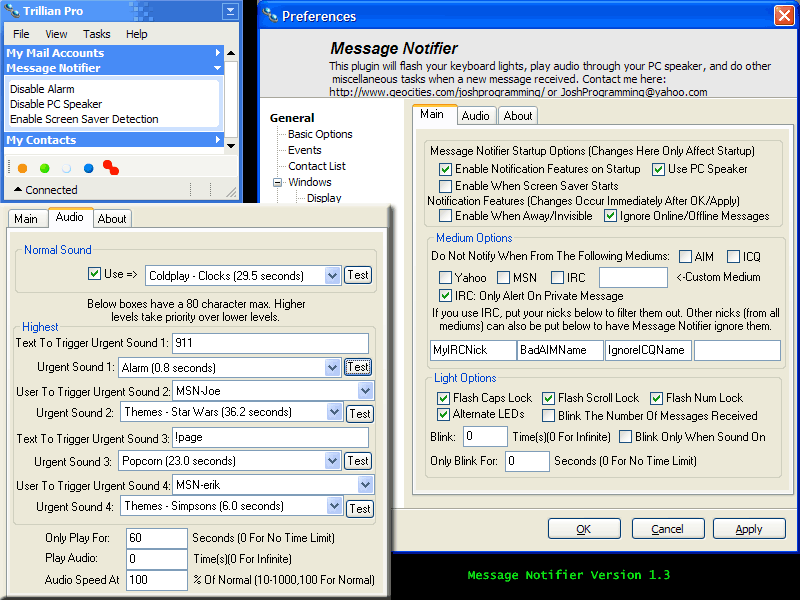 Changes:
Version 1.39 (2013/11/20):
Update old website references to my new website.
Make update check work again, but disable automatic checks by default. It is rare that this plugin will be updated. You can enable auto-checking in the preferences if you would like or you can just use the Check For Updates button.
New option in preferences to wake up the display when a message is received.
New option in preferences to close the screensaver when a message is received.
Other minor code cleanup.
Version 1.38 (2007/03/18):
Fix crashes related to exiting Trillian when the "Screen Saver Detection" or "Enable When Away/Invisible" options are activated. Both of these options have been switched to a non-threaded mode.
Away/Invisible detection will only activate the alarm if away/invisible is set on the connection of the incoming message. Previously, if any connection was marked as away/invisible, we did an alert.
Fix crash when "Ignore Online/Offline Messages" is unchecked and an msn window for an offline user is opened.
Don't alert when sending a group message.
Version 1.37:
Fixed a problem in Windows 9x/ME where priority by username drop downs weren't showing the users.
Added a version checker. Defaults to checking everytime the plugin is started. (Not loaded.) You can
turn this off in the preferences, though. There is also a button you can press to manually check for updates.
This feature requires Trillian 2.0+ as I use the Trillian API for this functionality. Also, ignore names should
work better. On Trillian 2.0+ it will match either the displayed name or the network id of the user. (1.0 will match
only display name.)
Version 1.36:
Added USB checkbox that allows a user to manually specify they have a USB keyboard. Hopefully
this will solve some problems. Of note, when using a USB keyboard (or Windows 9x/ME) you should
turn off the on screen key lock notifications, as this will significantly slow down the plugin.
For my Logitech, this was in the Logitech iTouch Configuration, under Options and marked:
"Show lock key notifications".
Version 1.35:
Updated to 2.0 API plugin.h. Also fixed a bug in Trillian 2.0, as it has switched the way
message_broadcast works. (name => display_name) This caused a problem with priority sounds
based on username. Should work fine now. Note: 1.0 users, please let me know if this works OK
for you
Version 1.34:
Whoops! Debugging popups for Win9x and NT below 4 are gone now.
Version 1.33:
Added a new Misc tab that I will use in the future. Also for NT based computers, there a
checkbox that is togglable so that people with problems on those machines can try an
alternate light method. I also found a bug that would cause one of the blinking routines
not to work right.
Version 1.32:
Fixed problem with crashing when using "Blink Number Of Messages." If you use this option
I highly recommend you update! (THANKS Lord Dukinger!)
Also fixed problem of alert exiting out too early when this option was selected.
Using a brand new Windows NT,2000,xp,and up light flashing routine for USB keyboards, and
any other that causes problems for the normal routine. Hopefully this works better.
Changed starting clear all lights to just clear lights that are going to be blinked.
Version 1.31:
Fixed resource duplicate ID problem where clicking checkmarks would activate
other features.
Version 1.3 (I've put the new 1.3 features up in the features area below.)
Fixed LED's so that they started off all blank. Also sets them back to what they were when
notification started. (Although Windows 9x may have problems with that.)
Fixed invalid pointer in configFile.
Fixed certain text boxes not updating main program variables.
Who knows what else. :P
Version 1.1-1.2
Added a different LED Toggle method for USB keyboards, or others that might have problems.
Fixed some values not being loaded on startup.
Added option (set to default) that alternates lights now instead of flashing all at once.
Moved LED options around in preferences.
Changed various startup defaults.
Added song durations to title listing.
Increased size of drop down song window.
Added audio test feature.
Changed website. My college one was finally taken down. :(
Added option to detect when you are set to away, and to automatically enable notification.
(Currently this activates when any connection goes to away/brb/invisible/etc. I may make it
connection based later.)
Added keyboard detection for 95, 98, ME, and NT (Global hook) (kbhook.dll needs to be in
same dir as MessageNotifier.dll)
Fixed bug where clearing priority text wouldn't actually clear it while the plugin was running.
Known Bugs/Errata:
Some songs play too fast or too slow. Use the multiplier feature in preferences for now
Some songs have messed up notes
Mail notification overrides away status, so the "Enable When Away/Invisible" option will
not work correctly when mail comes in unless you are away on another connection.
Possible Bugs/Errata:
Windows NT 4 or below with a USB keyboard: May not work, because of an alternate LED
flashing function used for some(all?) USB keyboards. I haven't been able to test it, but
if you do, please let me know if the plugin works. Basically, what could possibly happen
is that the notification is shut down right away. So you don't have to worry about
anything harmful. :)
Windows 9x/ME: Sometimes numlock/caplock/scrolllock might be in different state at the
end of a notification than they were at the start. I tried working on this, however, the
solution seems to cause other problems. Solution: For now the only one is to upgrade to
a windows NT based OS. (NT/2000/XP/2003) I might look into this more for later versions.
Future Features To Add:
Not a feature, but I have a bunch of optimizing I'd like to do
Perhaps a 'light' version with not so many songs
Knight Rideresque Lights
Use sound card for notes
Activate alarm when monitor power goes off
Allow people to send music strings and have them played
Allow people to send a certain jukebox command and have song played
Maybe make priority text case sensitive?
Some different light usage
Option to continuously blink until message is acknowledged.
Use sounds only on certain actions. Like window out of focus, window creation, etc.
Allow priority text to be turned off. Perhaps by new text or maybe by typing text again?
Maybe have option to disable priority when user who enabled it logs off?
For the ignore nicks option, I would like to use a list instead of four text boxes.